News & Culture // Aug 16, 2018
My Experience as an Intern at CKDIGITAL – Folakemi Tehingbola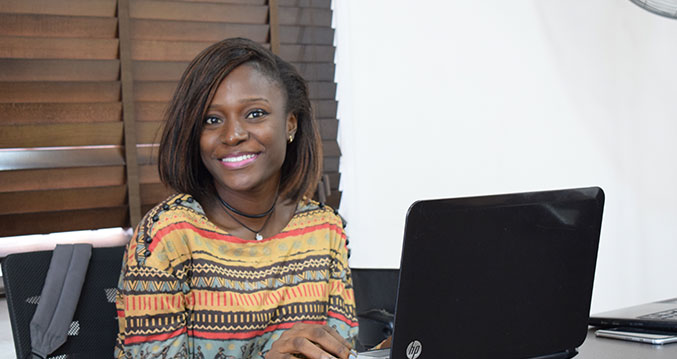 My first contact with CKDIGITAL was through a friend. He sent me an Instagram post by CKDIGITAL to commemorate the International Women's Day 2018. CKDigital was taking in 2 female interns to put them on a paid internship for 3 months.
I was skeptical about applying at first because I felt like many other ladies would have applied. The day he sent me the post was the deadline for submission and somehow he convinced me to apply.
Two days later, the same friend sent another post from CKDIGITAL's Instagram page saying I had been shortlisted. My name was even number 1 on the list! I was really excited, considering the fact that I sent in my application on the day of the deadline.
I got an email saying that I was scheduled for an interview. I remember getting to CKDIGITAL  at 6:14am, for an interview of 10am.  I passed it and was scheduled for another interview.
The second interview was a practical test, and I was to develop a design in PSD using HTML and CSS. I did the best I could and I submitted.
I got a reply 8 days later (I was actually counting the number of days from my last interview 😉 ). The reply said I passed the practical interview and I was to resume work. I was beyond elated!
My 3 months at CKDIGITAL was an exciting one. I learnt a whole lot! From UI Design to building e-commerce websites and corporate websites. I'm currently learning JavaScript.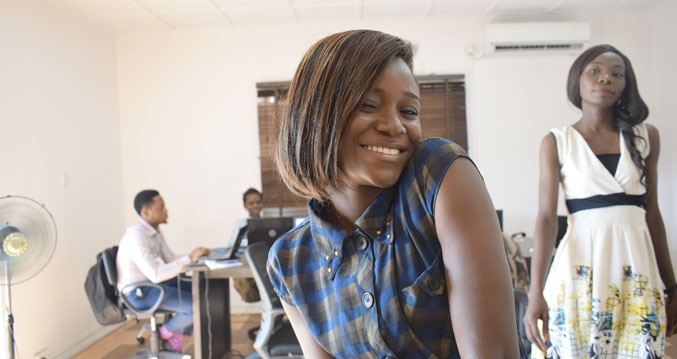 At every point in time, everyone at CKDIGITAL was always ready to help me in every way they could.
As a web design intern, Ifeanyi and Peter, my UI/UX Design tutors, were always ready to assist me – from correcting my designs, to giving me websites I could find design inspiration, or telling me what colors were better to use in my designs.
Busayo and Toyosi were always ready to help me out too! I remember when I was given my first actual project (a client's project), even when I didn't believe I could work on it and meet the deadline, they kept on encouraging me and helped me out when I had issues.
Finally, to the CEO, Mr. Charles Dairo, I want to thank you for the most productive experience that I had at CKDIGITAL.
I'd share a few things I love about CKDIGITAL:
Accountability – Here at CKDIGITAL, I love the accountability structure. We are expected to submit a daily report of what we did or learnt that day. It was stressful at first, but it kept me on my feet because I had to learn something new each day!
Pizza during Kaizen Meeting – Every last Friday of the month, we hold Kaizen meetings to discuss results, challenges and then come up with ways to work more effectively. And we get free slices of pizza in the Kaizen meeting!
Free Coffee Daily and Birthday Cakes for team members  – I love coffee a lot! And here there is free coffee, milk and sugar daily! Also each celebrant gets a free birthday cake on his/her birthday.
Giveaways – From time to time, there are random giveaways on Basecamp (our collaboration platform). We could win pizza, cake, sweets, drinks, chocolates and lots more.
In-house training & K-Day – On Wednesdays, we have in-house trainings or K-day (knowledge) where we are all opportune to learn something new, play games and bond as a team.
I took the In-house training on Cyber security on one of the Wednesdays. It was a good experience for me, because I get really nervous when it comes to presenting in front of people. But everyone encouraged me that I could do it, and during the In-house training, I delivered well. I also got good reviews on it.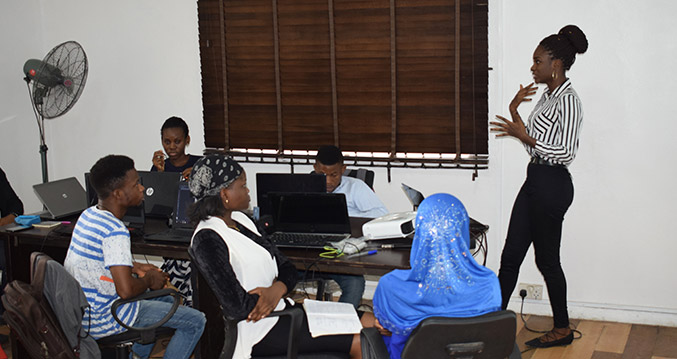 One sentence to anyone who will love to intern at CKDIGITAL? Be always ready to learn!
Thank you CKDIGITAL for the opportunity to learn. It was indeed an awesome three months!