News & Culture // Aug 31, 2018
My Experience as an Intern at CKDIGITAL – Irene Ighalo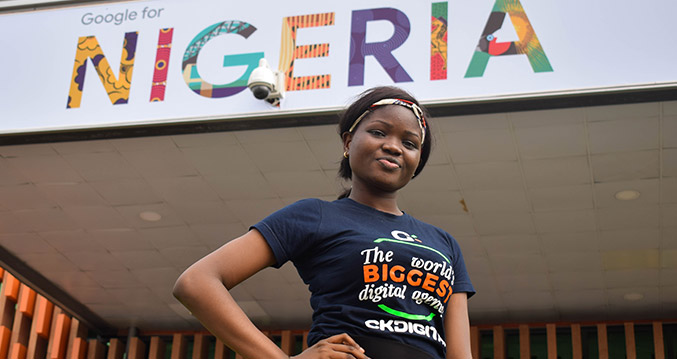 My name is Irene Ighalo – a 300 level Computer Science student at Ambrose Alli University. Here's my CKDIGITAL Internship  story.
I came home looking for where to do my 3 months internship. I then got to know about CKDIGITAL from my elder brother. He had been searching online for really good digital agencies and CKDIGITAL came out as one of them.
He did a thorough research on CKDIGITAL and saw that CKDIGITAL was having an internship program for two ladies to commemorate the International Women's Day, 2018. He told me to apply immediately. I called the company's number and I was sent an email to come for an interview at the office on the 18th of May.
I went for the interview, really nervous. I was interviewed by Mr. Charles and Chinwe. I was asked several questions and answered all to the best of my knowledge.
After the interview, Mr. Charles told me that I was going to get a feedback and an email that same day about the outcome of my interview. Fortunately, I got an email that evening that I had gotten the offer and was to resume on Monday, the 21st of May. I was overjoyed.
My experience in CKDIGITAL has been indeed wonderful. All the team members helped me in everything.
I live quite far from the office, so I had to get up very early and get to work on time. I was also closing by 6pm and that was not convenient for me, so I told my team lead, Mrs. Toyosi about it, and to my surprise, I got a message that same day that all interns will begin closing by 5pm.
Wow! That was really considerate and I knew that I was in the right place.
During my internship, I learnt HTML, CSS and how to use different themes on WordPress like Learnpress, Avada, Flatsome. I had really awesome teachers –Toyosi, Busayo and Onyeka. I also learnt how to use Adobe Photoshop to design UI templates and flyers –thanks  to Peter and Ifeanyi.
One of the major high points for me was when I was told I was told I was going to do a presentation on a topic of my choice. I chose the topic; "Office Makeup: Tutorials and Tips." As a result of this presentation, I learnt how to use Powerpoint to create slides – thanks to Halimat, Wale and Tosin for helping me out.
I also did some research on how to start and end a presentation and how to stay confident during a presentation.
Some of the major events that also shaped my experience were the Kaizen meetings and K-Day.
The Kaizen meeting is a monthly meeting where we are given the opportunity to talk about the things that can build us up as a company and as a team. I learnt teamwork and a whole lot from the meetings. By the way, pizza is shared during Kaizen meetings and that was the fun part!
The K-Day is a day we are expected to learn something new. This put me on my toes to make sure I learnt something new.
As interns, we were also expected to send in our daily reports on Basecamp. With this, I made sure that I completed all I was to learn daily so that I could keep up with the team.
Not to forget, there are also random giveaways like snacks and drinks to team members.
To be sincere, before I came to CKDIGITAL, I did not know what I was going to do with Computer Science but now I know what I can do with my degree after school; I will definitely go into software development and develop myself more with tutorials.
My advice to incoming interns is that they should never shy away from asking questions if they are not clear on something. Everybody is ready to answer anytime, no matter how busy they are. Always take corrections when necessary. Be always ready to learn and remember God's grace and favour.
I want to say a big thank you to CKDIGITAL for the opportunity to intern. Thank you for encouraging me. I now understand my path as a result of my internship. Thank you CKDIGITAL!