News & Culture // Sep 7, 2016
Employee-Employer Relationship: Charles Dairo speaks on Liveway Radio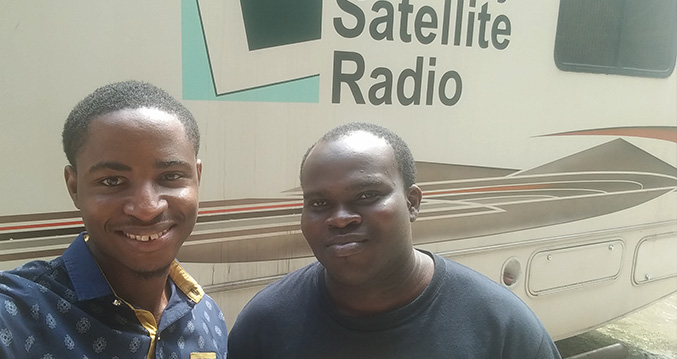 Recently, I, Charles Dairo, CEO of CKDigital spoke on the Radio show, The Entrepreneur, on LiveWay Radio. This was my first time on Radio, and it was an exciting experience!
Topic of discussion was "Employee-Employer Relationship", and the radio show host was @OsasT.
During the show, I answered questions ranging from how I started the CKDigital business to how to keep team members happy.
The Interview
For all those that missed the radio show, I've written a summary to some of my answers:
How did you start the business?
CKDigital started as a freelance 'side' business for me.
During my final year at the University, I took a course on Web Design & Data Security. We were taught basic HTML and PHP, and that's when I realized Web Design was something I was passionate about. I could literally go a whole day without eating, as long as I was with my laptop, designing a website.
After NYSC, I enrolled for a 3-month internship program at a company and after that, worked part-time as a web design consultant at a church, while still designing websites part-time for friends and family.
After one year at the church, my side business had become quite profitable, as I was getting referred by satisfied clients to their own friends. My investment on SEO was also starting to pay off, as I was getting a reasonable number of leads and customers via Google. At this point, I quit my part-time job at the church to face my business full-time.
How did you employ your first employee?
After deciding to become a full-time, the work quickly became too much for me to handle on my own. I renovated a store room at the back of my mom's supermarket and converted it to an office!
Next I reached out to a former NYSC colleague, who had shown interest in learning Web Design. He had no prior experience in Web Design, but learnt really fast. Within a couple of months, he could already write good HTML and CSS. He could also convert PSDs to HTML really well.
That's how I hired the first employee at CKDigital.
What were some of the challenges you've faced and how did you overcome them?
1. Unnecessary Mistakes: One of the challenges was the fact that I didn't have prior knowledge of how to run a business – I didn't attend any business school. This affected me in the beginning as I made mistakes that could have been avoided through knowledge.
I overcame this by reading lots of books and articles on business management, leadership, finance, customer service, project management, and more. I still do this now.
2. Location: Another challenge I faced in the beginning was our location. Many of our clients were located at Victoria Island, Lekki and environs, but our office at the time was located at Ikotun – deep within the mainland. There were even times when prospects and clients asked "Is that in Lagos?".
We overcame this challenge when we moved our office to Palmgrove, still on the mainland, but much closer to our clients.
There were definitely more challenges, but I really don't remember most of them now.
What are the benefits of having a good relationship with your employees?
A good relationship with employees has great benefits for the leader and the company as a whole. Here are some of the benefits:
It generally improves the culture of the company;
It motivates members of the team to share ideas on how the company can grow;
It builds a team of loyal employees that actually care for the business;
It affects the way employees work – Happy employees = Happy clients;
It makes new team members comfortable;
It makes team employees feel cared for;
It creates an environment where honest feedback is shared and received.
How do you draw a line between being friendly and being taken seriously?
Naturally, people respect their 'bosses', unless these bosses have proven over time that they aren't worth the respect of their people. If team members do not have personal character issues, this really shouldn't be a problem.
For example, the members of the CKDigital team generally take me seriously without need for threats or consequences. They know they need to be personally responsible, and do their best.
When I feel my leadership style is being taken for-granted by a member of the team, I simply communicate with the concerned individual privately to address the issue. At the end I usually find out that the person had good intentions and it was just a communication issue.
Have you had situations where team members were rude or disrespectful?
My second hire was a very disrespectful person. We were age mates, and I guess he wasn't comfortable having a 'young boss'. He acted arrogantly and spoke rudely. I plainly told him we couldn't work together. He didn't last longer than two weeks on the job. This however hasn't repeated itself within the last four years.
How do you ensure that people are treated equally?
We have generally put systems in place to ensure team members are rewarded equally and reprimanded in the same manner so as to build a company that runs on a principle of fairness. We continue to make intentional efforts to ensure we treat people equally.
In addition…
During the show, a number of people asked me questions by calling in and/or tweeting. Some of the questions included:
What keeps you going?
I have an idea. What do I do next?
Who are some of the clients you've worked with?
Other than website design, what are you into?
Do you have a platform to train people on Web Design?
There you have it! A summary of my interview on The Entrepreneur, on Liveway Radio. I do hope you found this useful.
Thanks a lot to the team at Liveway for the opportunity to share.
I also appreciate the CKDigital team for all your support. You guys make it easy to be a great leader.
Liveway Radio is an satellite radio station with audiences in over 110 countries worldwide. Lean more on their Website. Follow on Twitter, Facebook, and Instagram.
The Entrepreneur is a weekly radio show focusing on what it takes to start and run a successful business. This holds every Wednesday by 2pm.